​Coherent Genesis Taipan 577 nm Optically Pumped Semiconductor Laser (808 nm pumped OPSL)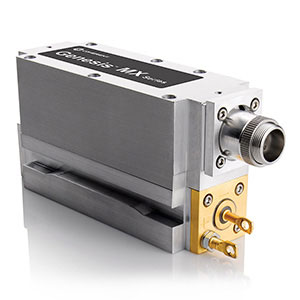 COHR_Genesis-Taipan-Series.pdf
Coherent offers a family of high power lasers for lightshow applications from 460 nm to 577 nm.
Obtain richer, more vibrant colors for your next lightshow with Coherent's Genesis Taipan family of lasers. Based on our unique Optically Pumped Semiconductor Laser (OPSL) architecture, these lasers have the ability to deliver high output powers at unique wavelengths. With a wavelength range from 460 nm to 577 nm, our high power Taipan lasers come in a variety that fully satisfies all laser lightshow applications.
Photo's, below, courtesy of PhontonLexicon member kclements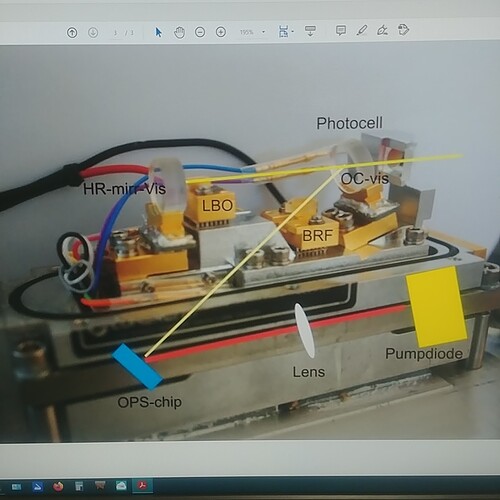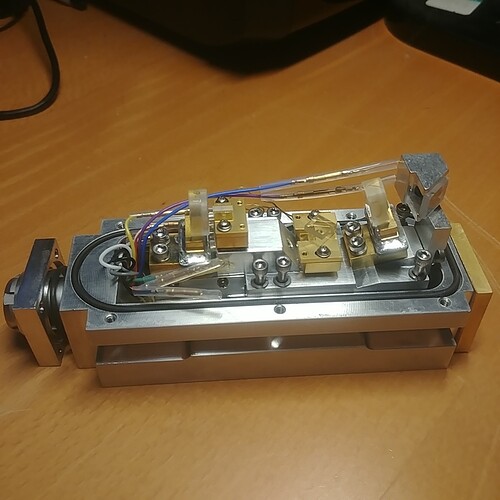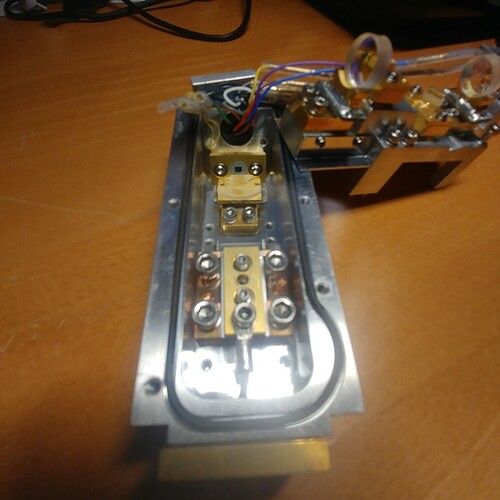 ​Regarding the BRF crystal, I asked I what it was for over at Photon Lexicon and received the following response from mixedgas:
The BRF selects the IR lasing wavelength. The one week class to explain how a BRF picks one and only one wavelength via transmitting a selected polarization requires Calculus. I don't do Calculus, unless it is the end of the world, and I'm getting triple overtime. Suffice it to say BRF is cool , it is a chuck of X-ray oriented quartz, and has been around since the invention of CW dye lasers. One of my favorite optics to work on. You rotate and tilt it to tune it as well as obtain minimum loss. On a good day they are at Brewster's angle for the tilt.
~
The BRF produces a intracavity loss to all but the desired wavelength. Gets used in Dye, Ti-Saph, and OPSL. Basically it is a tunable waveplate of a very complex nature and comes in single and triple plate units. It has very low insertion loss.
~
OPSL semiconductor disks can range say 10-100 nm in wavelength. It will lase where it wants to, without the BRF. I assure you it will lase in a wavelength where it is not desired without BRF, and hop around.
~
The OPSL is the same topology as a three mirror dye laser, plus an intracavity doubling crystal. So 577 is starting with 1154 nm IR from the Semiconductor Disk. The nature of a optically pumped, MOCVD grown, strained quantum well, semiconductor crystal is outside the nature of this post. Coherent grows a multilayer crystal with a semiconductor bandgap that does not exist in nature. That custom band gap gets you the "oddball" IR wavelength needed. There are only 2-3 fabs in the world who can grow the wafer needed.