Please post your YouTube or other videos you would like to share here.
One thing which I've pondered regarding how light traveling through space will change wavelength, as space expands, or how if contracting the wavelength gets shorter is that the energy levels of the photon should then decrease or increase, as the wavelength stretches to red shift or compresses to blue shift.
If we could find away to artificially compress radio waves enough, they should turn directly into light we could see at higher energy levels. But… then I start thinking about waveguides, if a light wave is getting stretched out to become a radio wave, then the EM field would never fit into a light wave sized waveguide, such as a fiber. I seem to have a disconnect with this idea because if the wave is stretched, it should not become bigger in regard to a waveguide, but it must be if we experience that light as a radio wave, so what is happening?
I cannot imagine a light wave expanding its wavelength in both X and Y directions (electromagnetic/static and magnetic alternations). Perhaps the way I think of radio waves in regard to physical size is completely wrong, yet our waveguides are physically based upon width and height for the wavelengths being used. My question is, does anyone know what happens to the size of EM waves of any wavelength when compressed or stretched through blue or redshift?
Something to consider is that it may not be a case of the wavelength being physically stretched/contracted but merely a perspective. The reason why I suggest that is that when you look into the physics of a frequency change, individual photon energy also has to change.
I'll use redshift as an example.
If light returning to our eyes truly now contains more red photons then the higher energy visible wavelengths would have had to of lost energy somewhere. We usually see this in the form of conversion, more photons make up for the less individual photon energy. So the overall energy of the system remains the same. However what mechanism is there for redshift to physically convert photons to longer wavelengths therefore lowering the photon energy and producing more photons? If there isn't that mechanism, then we have to presume energy is lost. Where has that energy gone? Also if we changed this to blue-shift, then we have a more troubling example. Where did the extra energy come from? So, my theory on this is that the photons don't physically experience any change. Only our perspective of those photons changes. More like an observational illusion than reality itself.
I was also questioning the same thing when thinking about this, since there is far more energy in blue than red, my thought was if something is moving much faster towards you and the light from it is compressing (or just light itself moving towards us) the apparent energy would increase due to the electro-magnetic alternations occurring faster, and thus producing only the appearance of a higher energy level. Perhaps that isn't how it works, but I've seen information that they actually have higher energy.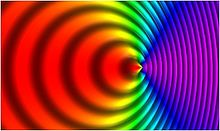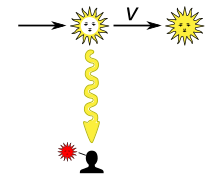 What I'm seeing from research backs that up that it is perspective rather than physical.
Way to think of it is, you are perceiving a different amount of crests based on spacetime compression in a certain time period. Which of course changes your perception of frequency. Frequency change means wavelength change therefore colour change. The colour that is observed isn't actually real. The photon still carries its original energy and frequency.
Take a look at the relativistic doppler effect.
If it is only perceptive, then how did that feed horn AT&T used detect the microwave background energy from the big bang? The energy entered the feed horn as RF.
Doesn't matter if the observer is human or a detector. Human ears and microphones can detect doppler shift in sound just the same.
If apparent, then it isn't an illusion created by the detector, if a waveguide, it collects energy as a waveguide.
When a detector is in a point of space in reference to the object. It is going to perceive the frequency shift. My point is if you was in an alternative point of space, you would observe something different. So its not the physical altering of the photons but the way the photons are perceived. We could go deep into the philosophy of what is even 'real' other wise lol
I agree with what you are saying, but yet I am conflicted, I need to think more.
Its the visualising it all in your head.
Apparent or not, the RF antennas behave exactly the same with the wave front. Due to that, they might as well be considered to be at that wavelength.