Hello people,
warning: long text

whilst I am working on the DPSS Nd:YAG Laser, I am planning a DPSS Titanium Sapphire Laser, cw at first, possibly modelocked later. I have actually already made a few crude experiments which did not succeed. I do have a 19mm long Ti:Sa crystal (chipped at one edge, only 4x4mm usable aperture, which is a bit scratched up) and the mirrors for a x-fold resonator (2x concave R=100, AR VIS, HR NIR; 1 HR NIR plano; 1x OC 95%R NIR plano). Also, I've got a NDG7475 1W 520nm diode. With those elements I have tried the x fold (really difficult to align) and an experimental hemispheric resonator. Neither have succeeded. I suspect that the available pump powers and the high OC transmission play a role. The crystal may be very long, but it is doped in such a way, that is aborbs ~70% green (54% blue), just like shorter crystals. So the only problem is getting the rayleigh length of the pump long enough to sufficiently pump the whole crystal.
After identifying those problems, I think that cranking the pump powers way up may be the solution. I'd like an OC with lower %T and a shorter crystal, but those are what I have atm.
In the following, I'd like to show the thinking and designing process behind the new pump module and would be extremely happy about feedback, especially criticism!
Now, I am going to use 2x 5W 450nm diodes and 1x 1W 520nm diode for pumping. According to this source, wavelength multiplexing increases efficiency since 450nm pumping induces a pump induced loss which 520nm pumping rectifies. So I can have high pump powers with low pump induced loss. Also, this paper shows that my pump powers should be able to threshold a TiSa crystal even at >5%T. However, they used crystals of only a few mm length, which I dont have. Anyways, I will use a polarizing beam splitter for combing the 2 450nm diodes and a dichroic for adding the green diode.
Beam quality is a big issue for diodes like this so it is imperative to correct the beams. I plan to use cylindrical lenses for that and after talking to Phillip at Live Lasersystems I'll definitely use FAC diodes since I dont need an aspheric collimator. A FAC diode costs ~90€, a non FAC + aspheric lens ~80€ so its a no-brainer imo since the FAC approach gives much better beam quality. For the green diode, I'll probably use my M9x0.5 collimator + anamorphic prism pair since this is what I've already got but I'm not sure right now. Since the beam profile of the collimated 450nm diode will still be a bit elliptical and I would have to have the two beams at 90° rotation to each other to combine them in the PBS, I'll also use a waveplate on one diode to rotate the polarization without having to rotate the diodes.
Another point is getting the diodes collimated in such a way that the rayleigh length for the pump beam after focussing with my F80 lens is correct for the crystal. But what is "correct"?
The following calculations are purely my thoughts so they may be flawed. If so, please tell me


Please have a look at this screenshot: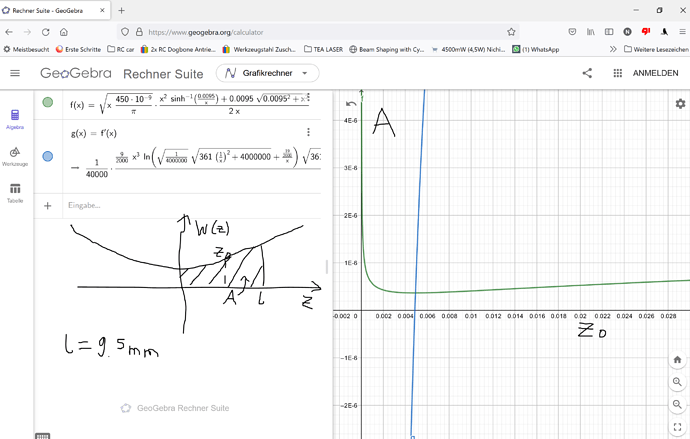 The scribbled graph is the beam waist w(z) on the y axis and the progagation length z on x. The area A is the pumped region (2D-simplication) within the crystal, at z=0 lies the focal point and at z0 lies the rayleigh length… Actually, the absorbed pump beam would be from z=-l to z=l and from w(z) to -w(z) but because of symmetry this simplication works for the following thoughts. Now what I want, is to minimize A to get maximum average power density in the pump beam. I can't just make the focal spot really small since the rayleigh length would decrease and the edges of the crystal would not be pumped well (and vice versa). So there must be an optimal rayleigh length z0 for a given l. So I integrated w(z) (for gaussian beams, not true here, but an approximation) from 0 to l to get A. A then is an expression dependent on wavelength (given: 450nm), l (given: 19mm/2=9.5mm) and the rayleigh length z0. Thus, the only variable is z0 and I can plot this in 2D. Remember, I want to minimize A so I find the lowest point of the curve A(z0). I can already see this point at z0=5mm, but let's have fun and derive A(z0). A(z0) is minimum (or max), when A'(z0)=0. This is, again, at z0=5mm.
So, we get that the optimal rayleigh length for the crystal of 19mm should be 5mm, presenting a good trade-off between pump density and longitudinal pump uniformity.
Finally, I simulated the beam propagation using BeamXpert DEMO (thanks builder!!) and tried many combinations of the lenses that Phillip has available until I found a combination that works well enough imo: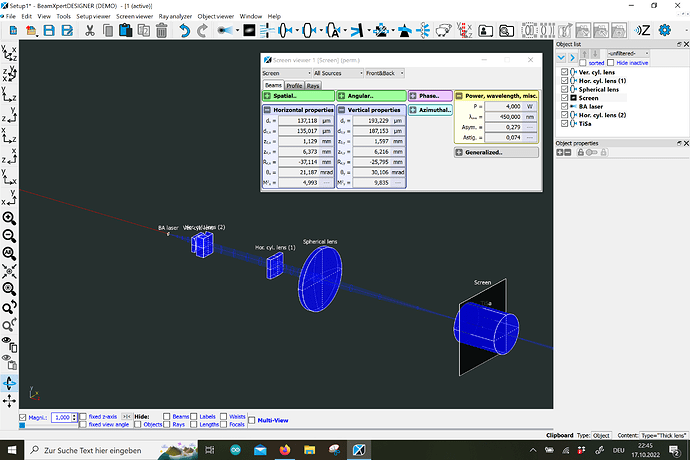 The first lens is used to collimate the vertical axis, the second one expands the horizontal axis and the last one collimates the horizontal axis again. The 2nd lens is not strictly necessary since the horizontal axis (slowly) diverges on its own, but makes the setup a lot more compact. I get a spot diameter of 135x187um and ~6mm rayleigh length in y and x. The spot is much larger than the reported above 10x35um but I was not able to achieve that at all with the lenses available. I would be very happy about tips regarding getting pump waist diameters like those. I am wondering if this is even possible with my diodes.
Anyways, that'd be the planned optical setup for ~10W of pump power. How I do this mechanically is not clear yet, but thats a problem for future me

If you have any tips or comments about this project, please let me know! As always, I very curious what you think.
Nik