Hi all,
Since I seem to be returning to this website quite a lot, I thought I'd show you what I have been working on whilst researching and sourcing parts for a Ti:Sa Laser (anyone got a small surplus crystal or know where to find one? That has been the hardest part so far…).
It is a DPSS Nd:YAG Laser that is tranversely pumped and intracavity doubled to green. The pump diode is supposed to put out 20 W, the rod is 1.6mm x 19mm. The seller told me it should be possible to get 1-2W green out of this. My resonator is concentric with the KTP (3x3x3.5mm) in the middle and the Nd:YAG rod on the HR side. The mirrors are concave 10cm radius, one HR1064nm+532nm, the other HR1064nm HT532nm. There's a brewster window in the resonator to get the intracavity beam polarized for the KTP.
The module is supposed to deliver the 30A for the Diode, keep it cool using a big TEC and heat up the KTP to 50°C, even though heating the KTP didn't significantly change the output power. It does that but needs a break after 20-30 min since I underestimated the heat dissipation capabilitis of the heatsink below the main plate (not visible in the photos).
I am currently getting about 500-800 mW (can't measure those powers…) out of the module.
Interestingly, I had to angle (plane analogy: yaw angle) the KTP, so the incidence is not 90°. I only expected having to adjust the roll angle, so I need to redesign the holder. Does anyone know why that might be the case? Maybe the crystal was cut weirdly?
Anyways, the end goal could be to q-Switch the system and engrave or even etch PCBs… But I don't know whether I'll ever reach the power levels to do that.
Any thoughts are welcome of course

Nik
PS: The module probably is from a Lightwave 246 "Halfnote":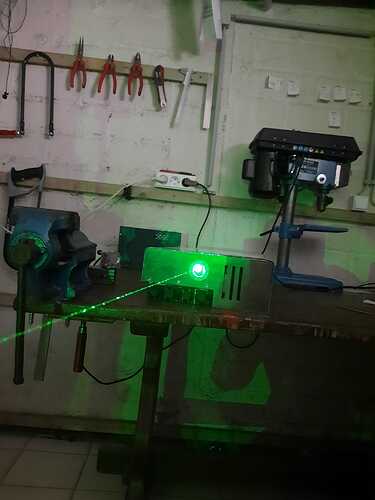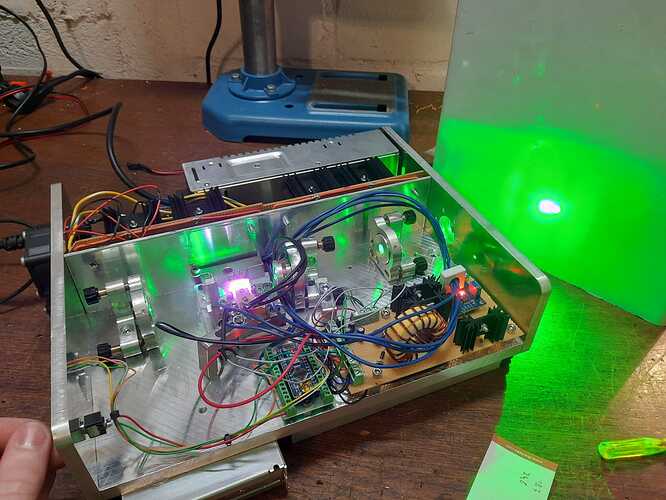 Old Foto, but shows the backside: